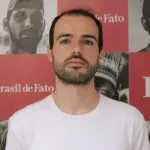 Writing for Globetrotter since 2020
Daniel Giovanaz is a journalist and has a master's in history from the Federal University of Santa Catarina (UFSC). He covered the 2019 Bolivian elections and was a correspondent for
Brasil de Fato
in India in 2020.
Never miss our latest article
Daniel Giovanaz is a journalist and has a master's in history from the Federal University of Santa Catarina (UFSC). He covered the 2019 Bolivian elections and was a correspondent for
Brasil de Fato
in India in 2020.
Please use our Syndication Request Form to join at no cost our network of publishers spread in more than 60 countries.